THE ULTRAROOF – STYLISH AND STRONG
If you want a tiled conservatory roof that looks outstanding and provides incredible thermal performance, choose Ultraroof. This lightweight system is easy to install, thanks to its lightweight; it also delivers incredible thermal performance.
Ultraroof is the lightest and strongest tiled conservatory roof on the market. It is designed to sit on old or new window frames and doors; unlike other solid roofs, it never needs a tie bar. Your installation will act as a long-term investment for your home.
Whether you need a replacement conservatory roof – or are starting from the beginning – our Ultraroof tiled conservatory roofs will reward you with an interior space that's light, bright, warm and comfortable. You'll be able to relax or entertain in your room all year round.
Our Ultraroof tiled conservatory roofs can be installed without delays. The entire system can be watertight in six hours. The entire process has been designed with convenience in mind. This means you'll be able to enjoy a roof that can be fitted without any stress or inconvenience.
Choose the Ultrarood and you'll enjoy all the benefits of a traditional solid tiled roof, with all the advantages of a strong and lightweight Ultraframe technology.
Add natural light with full height glass panels or Velux windows. You can specify tile colour, the colour of your fascia boards, and even the ridge and capping material, so your new rood blends seamlessly with your existing home.
Click a benefit to find out more
Full-length glazing panels for maximum natural light
Competitively priced glazing vs other brands
Compatible with any specification of glass
Fully integrated glazing system
Designed by conservatory specialists, Ultraframe, to replace existing conservatory roofs
Lightweight panels are cut to size and easy to manoeuvre
Weighs only 38kg/m² – lighter than any other solid roof
The lightest tiled roof on the market
Complete warm roof system, with no cold bridging
Option to reduce to 0.13 U-Value if required
Fully insulated 380mm structural beam
Unrivalled thermal performance
U-Value as low as 0.16
The complete, assembled Ultraroof structure was fire tested in 2017 by Warrington fire
Ultraroof tiled conservatory roofs are fire rated as B-roof according to EN 13501-5: 2016
Ultraroof is fire rated as AC according to BS476-3:2004
Integrated full height glass panels for faster glazing
Faster to fit than any other solid roof
Key components pre-cut to size
Watertight in around 6 hours
No cutting required on site
NASA satellite data used to precision engineer every roof for wind AND snow loads
4m spans for bi-folds without extra support
Our tiled conservatory roofs offer superior strength for larger designs
No Tie Bars required – ever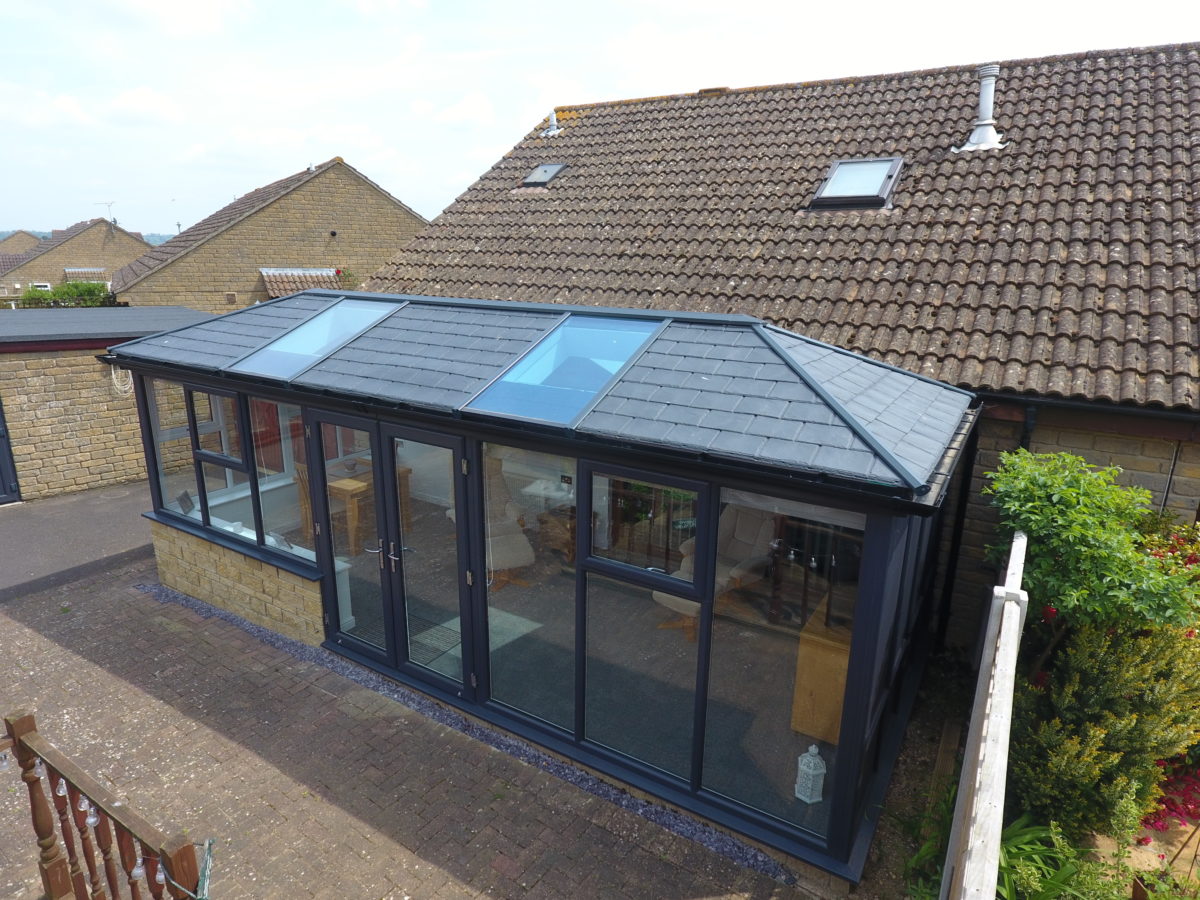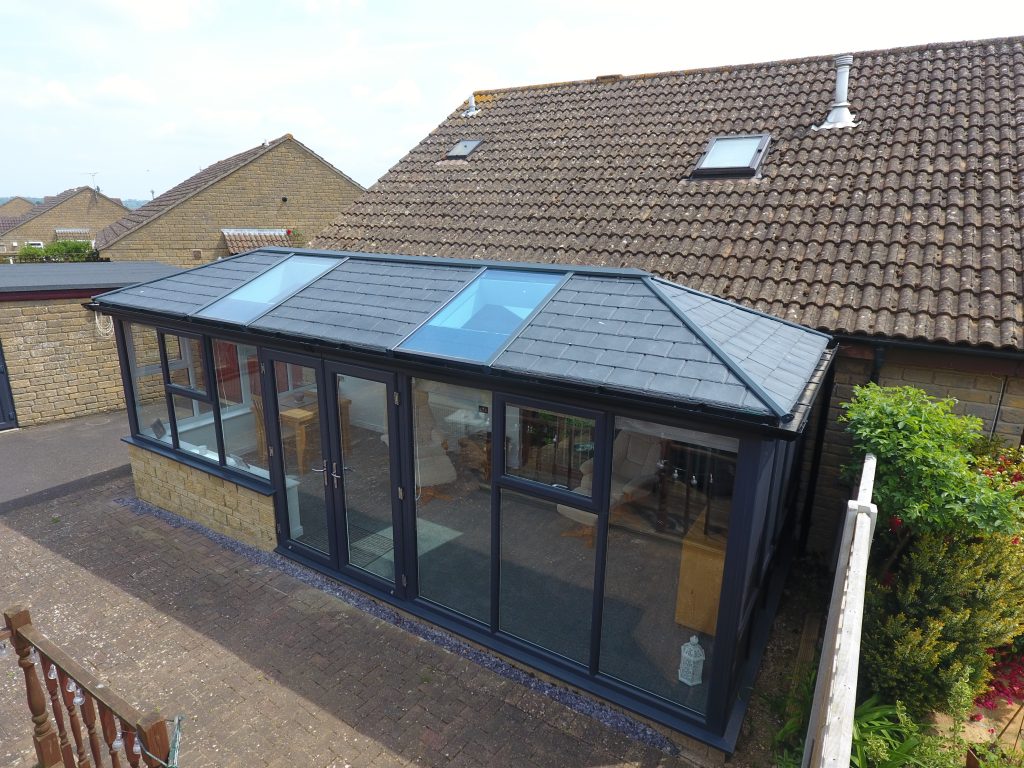 THE ULTRAROOF CAN BE INSTALLED QUICKLY
You won't need to worry about disruption to your home when you choose Ultraroof. Our tiled conservatory roofs are pre-manufactured at our factory, which means there'll be minimal mess and noise while your installer fits your brand-new tiled conservatory roof into place.
The Ultraroof tiled conservatory roofs are extremely lightweight. Because it only weighs in at 38KG, it won't place undue stress on the frames of your existing conservatory. This means your installation will be compatible with your existing structure and comply with building regulations.
USE YOUR CONSERVATORY ALL YEAR ROUND WITH THE ULTRAROOF
Our Ultraroof tiled conservatory roofs will also:
Project More Light into Your Conservatory, Orangery or House Extension. For those who want the benefits of tiled conservatory roofs, while retaining an element of light within their room, the clever configurable technology in the Ultraroof allows the installation of multiple glass panels or Velux Windows – giving you a bespoke design that will also project light into the adjacent room.
Reward You With a Cost-Efficient Space to Relax and Entertain In. Extremely thermally efficient due to its advanced design, the Ultraroof is also compliant with Building Regulations and is JHAI approved – meaning you can buy your tiled conservatory roof with confidence. You'll also benefit from a warmer home that's cost-efficient to run when you choose Ultraroof.
The Ultraroof comes equipped with all of the following:
Internal plastered vaulted ceiling to add spotlights or pendant lighting
Full-length glass panels that flood the room with natural light
State of the art thermal performance roof
Fast to fit for less disruption at home
Lightweight tiled roof
Customise our Ultraroof tiled conservatory roofs using any of the following colours:
Choice of three tile colours to match house roof
Carbon Grey
Harvest Brown
Terra Brick
You won't need to worry about compatibility when you choose Ultraroof. Your installation will work with the following building configurations:
Double hipped with box gutter
Victorian with equal facets
Hipped Lean-to/Lean-to
P and T shapes
Georgian
Gable
Tudor
Change the appearance of your installation and further enhance its performance by choosing from the following options:
Super-insulated columns
Curved cornice
A Velux window can be installed within the tiled conservatory roof's system.
Your tiled conservatory roof will feature modern glazing that's thermally efficient. Your installation will limit solar ray entry but also stop heat escaping during colder weather.
All our conservatory designs are accompanied with a comprehensive 10-year parts guarantee. Please check with your approved Ultra Installer to find out what warranties they include with your installation.
Three Reasons To Choose The UltraRoof
The Ultraroof can be modified to include a wide range of glazing options, depending on individual preferences. To allow light into your conservatory, you'll be able to choose full height glazing or Velux extension alternatives.
This flexibility means that you'll be able to bring light to your home, your way. More importantly, a roof that projects light into the rest of the house will add more value than a totally solid roof over a dark room.
High-performance glazing that reduces glare – and controls heat entry – can be used to improve comfort. Our glazing is toughened, self-cleaning, while the 4-15mm cavity is filled with Argon gas to maximise heat retention
You'll be able to choose from a range of design options when you select Ultraroof. An array of possibilities will be within your grasp that will empower you to customise your replacement tiled roof – resulting in a finished product that ties in with the schemes and layout of your home in every possible way.
The external fascia boards are available in different colour choices to match or contrast with your existing window frames: 'White', 'Black', 'Rosewood', and 'Oak'. You can also choose your tile style, the colour of your fascia boards and the ridge and capping material, so your new roof blends in.
All Ultraframe tiled conservatory roofs are rigorously fire tested to ensure they provide protection if the unthinkable happens – the Ultraroof is no exception. Fully compliant with existing building regulations, it will protect you and your family. You'll be able to enjoy the peace of mind that comes with quality.
Ultraroof is strong and light in weight. This means it's designed to last yet won't place pressure on your foundations or frames – this makes it easier to obtain planning permission. Unlike equivalent conservatory roofs, it never needs a tie-bar – no matter how big the room is. This is important if a vaulted roof is needed
Tiled Conservatory Roof Gallery
View our beautiful gallery of Ultraroof conservatory tiled roofs.